Journal
This section will hold snippets of things I learn while plinking on my Zaurus, or scanning the community resources. No particular order, just things that are interesting to me.
Jun 27, 2002
Posted my work-in-progress. The structure is good. Reads great on the Zaurus screen. Prints nice, too. Left off at #4 on my Software page out of 10 defined.
Jun 30, 2002
Helped a few more Zaurus developers with their program icons. Also spent some time testing wwwoffle for the Zaurus. Its an offline website reader and proxy/caching server. Basically feed it a list of sites you want, tell it how deep to scan, and then you can unplug from the 'net and read them later. Left off at #7.
Jul 1, 2002
Developed icons and help for Jesper's Shopper program. Discussed further revisions to Custom Input functionality and re-did the help there also.
Jul 3, 2002
Finished all the software tricks (13) currently listed. Time to download more!
Jul 5, 2002
Began discussions with benmeyer about the next version of Server Manager, with extended capabilities.
Jul 8, 2002
Downloaded the trial of QT SDK. Would like to develop some software, the interface reminds me of FaceSpan (applescript environment for Mac). Must turn on brain sponge.
Jul 16, 2002
Hrm, how can we teach ibot on #zaurus to search killefiz? I grabbed the source, its perl. Now just to tweak it and contact ibot's owner.
Jul 18, 2002
I wrote some instructions and an install script to help people perform a more-or-less manual install of the tkcRekall demo. This methods puts most of the files onto your external storage (SD card) and symlinks as much as possible to there (excluding some libraries).
Jul 19, 2002
Zaurus has a diagnostic mode if you hard-reset (you'll lose everything) and press d+p on the keyboard. There is a page that details battery life expectations.
Jul 21, 2002
Palmtop Pro magazine (in Europe, german language) said they were listing this site in an upcoming issue.


Jul 25, 2002
So much happened today. Erikd and I were accepted into the Zaurus challenge, so we're writing an application to win a 5000d (which Erik will get). Then, of course, we'll give the app away for free to everyone.
Aug 10, 2002
I have a second Zaurus for a while, so I worked with kergoth to get Open Zaurus installed on it. It feels a lot more stable than I had anticipated. The built-in applications, while few, are fully functional and provide extra features that the Sharp ROM doesn't have. The additonal security and power-user configuration is nice too.
Aug 18, 2002
Sync a Zaurus to Mac? Yes. How? Like this. Running Virtual PC with Windows 2000 on a Mac OS X G4, installing the standard TCP/IP USB drivers that come on the Sharp CD, and running the newest Qtopia Desktop with Open Zaurus. Works for me.
Aug 19, 2002
How would you like to get 9 hours of use out of your Zaurus, even with a wireless lan card in place and active? Yeah - me too. You can order this external battery pack which some claim will do exactly that. Today I also heard that native Mac OS sync is only 2 weeks away.
Aug 23, 2002
StatGrapher was approved for the Zaurus challenge, and we'll be receiving our 5000d model in a few days. I've also signed up for the Sharp Mobile wireless internet service, but due to "IP provisioning diffculties at Verizon" my unit is being delayed for a few days.
Aug 30, 2002
I received my Sharp Mobile Services unit today. Didn't get it to work yet, but I found its size to be smaller than I anticipated. The battery life seems like it will last a nice length of time, and it fits good and snug into the CF port.
Sep 5, 2002
Helped Treke with a version of keypebble (VNC client) that does screen scaling. Now that's a nice thing to have
Sep 6, 2002
I posted a comment on zaurus.loveslinux.com regarding the Sharp Mobile service. So far the product is working great, I just can't get a signal.
Sep 7, 2002
I have an idea for an application that would manage applets that load into the taskbar. There are just too many of them sometimes.
Sep 8, 2002
I'm pleased to present Team Geek's first released Zaurus application. AppletManager.
Sep 11, 2002
Heard from a Sharp Mobile Services rep today that there have been many complaints about the ability for SMS users to get connected to the net. Looks like misery has company. Opened a case ticket, and waiting for a call back.
Sep 13, 2002
Helping XavierXeon with graphics for his backgammon port. I did the casino theme. You can see the early prototypes for my designs.
Oct 3, 2002
There's a new Zaurus on the horizon. Sharp was showing the new zaurus (local copy) at the Ceatek show in Japan. There is an IDG article with bits of details as well.
Oct 14, 2002
It's a bit hard to believe. I'm still rubbing my eyes. But I'm running a Mac emulator on my Zaurus. If you want to see the screen shots with descriptions, view them on my Mac emulator on Zaurus page.
Wireless internet
First and foremost, I'd like to get my hands on the yet-to-be-released SharpMobile package so i can get some real use out of my Zaurus. Sure, it makes a nice demo to surf the net through the USB cradle, but when I really need it is looking up data or checking mail when I'm not in the office.
Aug 30: Received the unit
Sep 12: Still not working...
Oct 25: Still not working...
Better battery life
Sure, i could carry a spare battery around. But I'd almost rather have an alternate way to keep the Zaurus running when an AC outlet is not available. I've read reports of folks using everything from camcorder batteries to a handful of AA's in order to achieve longer runtime from their handhelds.
Sep 11: My father wired up 4 AA batteries with a cord that powers the Zaurus for 10+ hours. Cost of parts, about $5.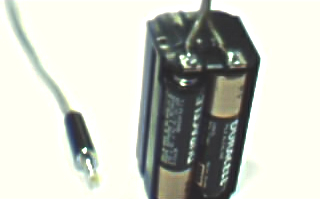 | | |
| --- | --- |
| Hardware I'd like to build | |
External speaker
I was reading this page at zymurgy.net and also this untitled page about building a simple external speaker for the Zaurus. I saw a demo of planar ribbon speakers a few years back while involved in a development project. They produced rich sound from a very small form factor. Perhaps they will be useful in my own implementation. Photos will be posted here, of course.